It's National Apprenticeship Week! An annual week-long celebration of highlighting the work being done across the whole apprenticeship community to promote the impact of apprenticeships. 
Hear from four women apprentices who are smashing the glass ceilings in their industry, and are paving the way for the next generation to follow in their footsteps! 
Being a woman and doing an apprenticeship makes me incredibly proud to say, 'I am an apprentice.'
Meet the apprentices
Raisa Matadar
, aged 23
Engineering technician (Level 3) at Jaguar Land Rover
I'm the only female ethnic minority apprentice in my department, in an industry that also suffers from a large skills and gender pay gap. I realised very quickly the lack of diversity within my industry. I've always said that "you can't be who you can't see." So, I've been actively getting involved with organisations outside of my technical training to challenge stereotypes.
Having the opportunity to be able to champion underrepresented groups in engineering is one of the most wholesome parts of my apprenticeship.
Since I started my apprenticeship 18 months ago, I've gone on to win multiple local and national awards:
'Top 50 Female Apprentices in Engineering' by the Women's Engineering Society 2019

'Highly Commended' at The Asian Apprenticeship Awards 2019

'Rising Star' at WorldSkills UK Diversity and Inclusion Awards 2019

Shortlisted for 'Apprentice of The Year' at Enginuity (SEMTA) in September 2020
To those coming behind me...
It can be scary being the first. It can be nerve wracking deciding to do something that is not considered 'normal'. Be brave, be bold and use every learning day to your advantage.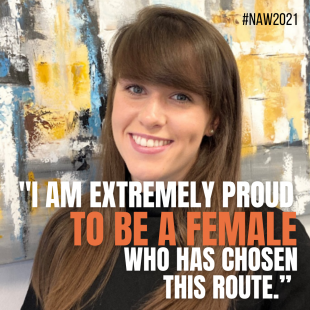 Amy Marren
Solicitor apprenticeship (Level 7) 
My route into Law has been an extremely varied and fairly unconventional one! After winning a bronze medal at the 2018 Rio Paralympics I went straight to university. But it wasn't for me. I'd always enjoyed studying Law at school, so I found a legal apprenticeship in London.
I'm passionate about playing my part in making Law an attractive career for young women, a sector that can be heavily male-dominated. Women are making progress to breaking the glass ceiling that exists across the industry, but there's more that can be done like introducing flexible working and mentoring.
I'm grateful that as a young woman I have plenty of female role models to look up to in the industry, from my boss right up to partners in law firms around the world! 
To those coming behind me…
Don't be afraid to take risks and be proud of yourself for having the courage to take them. Sometimes the best thing you can do is put yourself out of your comfort zone. If things don't always work out, it's almost guaranteed there will be another way!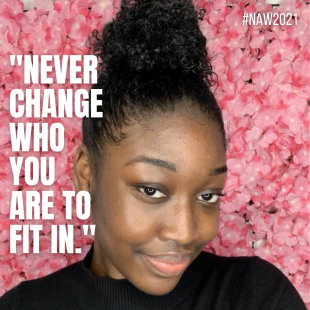 Jacqueline Kankan-Hope
, aged 19
Advanced and creative hair professional (Level 3) at Karine Jackson
After finishing my A-levels, I decided to do an apprenticeship in hairdressing instead of going to university. People would say, "Are you sure?" and "You're capable of doing a more academic subject." But this made me more determined to follow my passion!
It's easy to think women lead the hairdressing industry, but there's still inequality in the sector. As a Black woman, I would like to see more qualifications make studying Afro/textured hair mandatory. And I would love to see more minority ethnic hairdressers winning prestigious awards. I believe this would inspire more women like me into the industry. 
To those coming behind me…
Don't be afraid to shine! Never change who you are to fit in. what is yours will come to you. Believe in yourself, always, and with everything you do, do it with boldness and passion!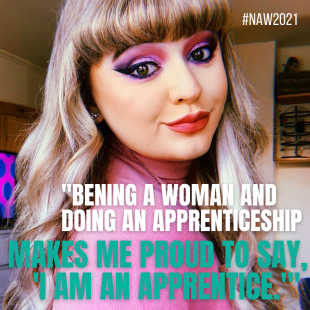 Amelia Russell
, aged 22
Business administrator (Level 3) at the Institute for Apprenticeships and Technical Education
I'm a Governance and External Affairs Officer at the Institute for Apprenticeships and Technical Education. I'm currently doing a Business Administration apprenticeship and I'm also the lead on the apprentice panel.  
The main purpose of the panel is to ensure that the views of apprentices are represented across the work and governance of the Institute. The panel decides for itself which issues to focus on and can advise and challenge the Institute's board. It's provided me with a unique opportunity to influence how apprenticeships are developed, improved and marketed.
I'm incredibly passionate about apprenticeships. I aim to really show off how amazing they are for people from all backgrounds. I'm a care leaver, and I've faced many difficult barriers in my life. Doing an apprenticeship has opened up so many doors to success for me.
I'm so proud of what all of the apprentices have achieved so far and I can't wait to see what they achieve in 2021!
To those coming behind me…
I say be strong, be fierce and be courageous because life is what you make of it despite your age, your background, your age, your race or anything in between and more. You can truly blossom if you believe in yourself.
Here's to strong women. May we know them. May we be them. May we raise them.
– Michelle Obama
How do apprenticeships work?
Apprenticeships combine practical training in a job with study. They take between one and five years to complete, depending on their level. 
 Level
 Equivalent educational level
Intermediate
 2
 GCSE
 Advanced
3
 A level
 Higher

4, 5, 6 and 7

 

Foundation degree and above

 Degree
6 and 7
 

Bachelor's or master's degree
Find out more about how apprenticeships work in: