Have you ever felt like you wanted to do something different with your life?
After a 30-year corporate career and a move with her family from London to Wales, Mel Griffin's dream of owning her own bookshop was calling. At age 50, it was her time.
My bookshop dream come true
When I discovered that the owners of my local independent bookshop were keen to retire, but wanted to see it continue, the dream of running my own bookshop resurfaced. Everything started to fall into place. My dream, since being a 16 year-old bookshop sales assistant, was finally coming true.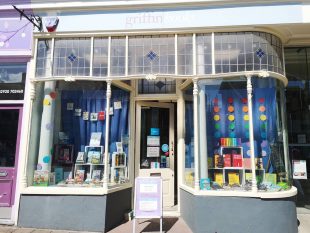 Over the next two years I did my research. I attended a local course for small business owners and volunteered in the shop whenever I could to learn the ropes! Finally, on 1 September 2014, I proudly took possession of the bookshop's keys. I renamed the business Griffin Books to mark this new chapter in the shop's twenty-year history.
Griffin Books went from offline to online
Over the past six years the bookshop has gone from strength to strength. We've had a complete internal refit, seen a significant growth in sales, developed a very successful events programme and adapted smoothly to the impact of a pandemic.
Lockdown was a nervous time for everyone in the retail industry, and especially for small independent businesses. We had to adapt our entire sales model and way of working in just a few hours. Before the pandemic, our online sales were very limited – this changed overnight! We started an online ordering and home delivery service via email. We were able to keep our regular customers reading, as well as new customers from much further afield. I always planned to launch an online shop, and now with the increase in demand, we've done just that!
Our author events have changed too. We knew how important it would be to keep that connection with our regular customers. What we didn't foresee was how many new people we would reach by taking our events online. We've had people tuning in from as far as New Zealand, Sri Lanka and the USA!
Griffin Books is a hub for the local community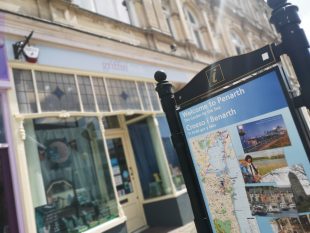 Griffin Books is located at the heart of Penarth Town Centre in south Wales. We're not just a bookshop, we're also known for our busy programme of literary events. In normal times this includes hosting author events, book clubs and Storytime for toddlers. Author events are important for us as they offer another income stream and help increase our public profile. Most importantly, they bring people together and strengthen the feeling of community that is so important here in Penarth.
We knew lockdown would be a challenging time for everyone, and we wanted to provide a sense of routine for our regular customers. So we've been streaming our weekly toddler Storytime session live via Facebook and Instagram. I'm not entirely sure who's enjoying the sessions more, the children watching from home or Hollie and Kate who are reading the stories!
Teamwork has led to our success
If there's one thing I can point to which explains the success of Griffin Books, it's having built an amazing team. We currently have four part-time staff, and all but our Saturday assistant are women. That wasn't intentional, but the ability to work part-time and combine the job with family responsibilities has made it an attractive option for women.
The most important thing is that all of my team members are passionately committed to providing excellent customer service and helping Griffin Books to keep growing.
My top tip? Give it a go!
The advice I'd give to anyone looking to start or take over their own business would be to do your homework first. Have a backup plan and be prepared to put your heart and soul into the venture. But give it a go! The best piece of advice I received, which tipped the balance for me, was "Don't ever look back and wish you'd done something."
Our favourite ever quote, which was genuinely overheard in the shop, is "A town without a bookshop is a town without a soul."  We passionately believe that, and it has become the Griffin Books motto.
Griffin Books recommends…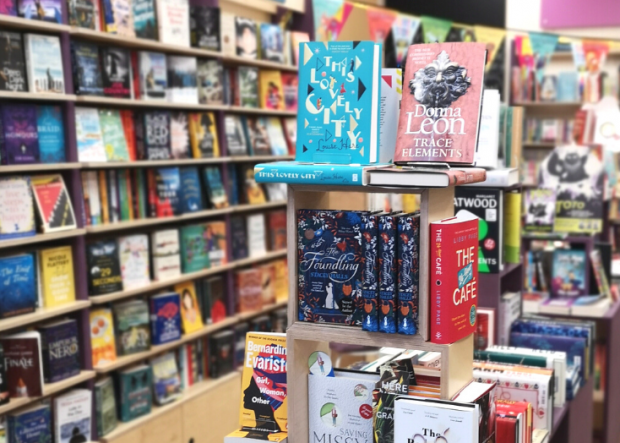 Fiction
Girl, Woman, Other
Bernardine Evaristo
The Booker Prize winner is one of our current bestsellers. Timely and thought-provoking interwoven stories of twelve mostly Black, Asian and minority ethnic, mostly female characters.
The Heart's Invisible Furies
John Boyne
Another shop favourite, which painfully but movingly brings to life the experience of growing up gay in Ireland.
Non-fiction
Prisoners of Geography
Tim Marshall
One of our go-to titles. It clearly sets out the geo-political origins of many contemporary global challenges.
The Roasting Tin
Rukmini Iyer
We also love Rukmini Iyer's simple, inspiring cookbooks which began with The Roasting Tin.
The Boy, The Mole, The Fox and The Horse
Charlie Mackesy
It's been many people's go-to book when looking for a gift, with some customers buying multiple copies to give to family and friends!
Children's
The Girls
Lauren Ace and Jenny Lovlie
We love this book, which tells the story of lifelong female friendship in picture-book form.
Together We Can
Caryl Hart and Ali Pye
It makes the point that by working together, despite – or even because of – our differences, we can achieve great things!