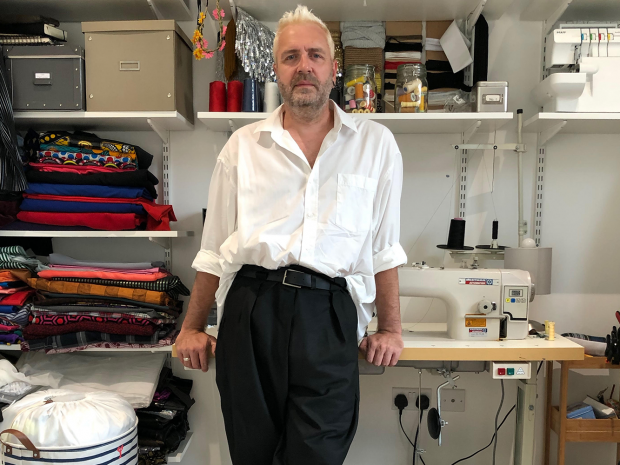 London Design Festival returns to the capital this week as a symbol of London's determination to maintain its creative and cultural leadership. To mark the event, Great British Sewing Bee finalist, Matt Gage, opens up about discovering his creativity, the first dress he ever made, and *that* Sewing Bee walkout.
Sewing's given me a sense of creativity I never had before
I began sewing five years ago. It was the first time I'd used a sewing machine since Textiles at school, 23 years earlier. I hadn't a clue what I was doing, and it took me a whole afternoon to understand how to thread it. 
The very first garment I made was a dress to go to a club night in East London. Cyblis House was a place where people could be who they wanted to be, a celebration of complete diversity. I'd never sewn from a pattern before, and so you can imagine it was a bit of a disaster! It was a terrible fit and really badly made, but I loved putting all the pieces together and creating something absolutely unique. There was a sense of freedom and creativity that I had never had before. 
And so my love for sewing began.
A self-taught sewer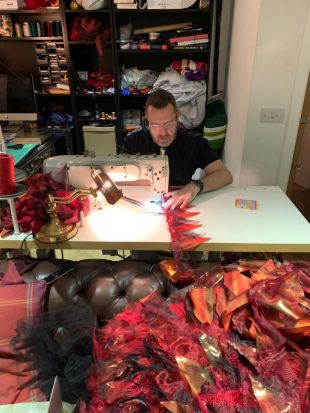 I'd often sew after a 12 hour shift at work and well into the night. I'd watch online videos if there was something I wasn't sure about or to learn a new technique. Sometimes, my mind drew a blank and I had no idea what the pattern instructions would be telling me! I'd have to walk away from it and come back the next day with fresh eyes. 
I'd always wanted to do something creative. I tried photography, creative writing, even DJing, but my enthusiasm soon wore off.
But sewing has stuck with me. I think partly because there's always something new to learn and so many different things to create. You can always push yourself to achieve more. I find it relaxing, but at the same time extremely frustrating when things don't go the way I want them to!
The nation saw me walk out of the room on Sewing Bee to compose myself when my Dynasty-inspired cocktail dress went wrong. This time, I didn't have the advantage of coming back to it the next day. So I refocused my mind and finished the dress, although it turned out a little different from what I planned. *Spoiler alert: I survived to sew in the next round!*
My time on the Great British Sewing Bee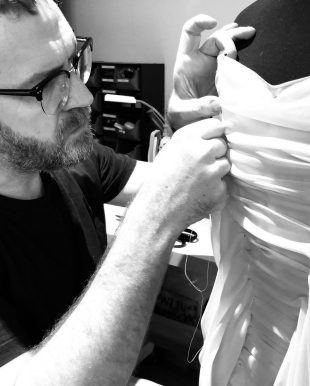 I quite often doubt myself. Although I may seem confident on the outside, on the inside my brain is telling me "you aren't good enough, you can't do this". But it's people who get me through. The support from my partner Greg, who always tells me to have faith in myself, and from my family, who have always been there for me.
It was this support that encouraged me to apply for BBC's The Great British Sewing Bee. I didn't think that I was experienced enough, so I was shocked when I got the call saying I'd made the final 12! The popularity of the show this year has been incredible, partly due to lockdown, but also because the show is so charming and appealing, even to those who don't sew. 
I also felt really supported to be myself during the show by the Great British public. I made garments for my partner, Greg, which were not the usual type you would see on a show like Sewing Bee. There was no disapproval or backlash and it made me feel really positive.  
My favourite garment I've ever made?
One of my favourites has to be a surprise dressing gown for my father's birthday. It was made from a beautiful brocade fabric with quilted lapels. He loved it so much, he's even asked for a waistcoat to be made out of the same brocade!
Turning my passion into a career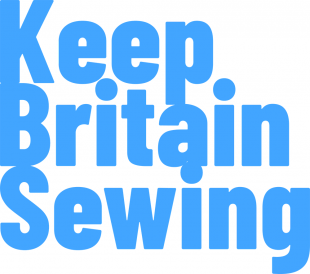 One good thing to come out of lockdown was people trying to find a new hobby to learn, and sewing was at the top of the list. There was a huge demand during lockdown for sewing machines, with people sewing face coverings for their friends and family. Having taught myself to sew, I want to encourage people to learn in the same way. I've just launched Keep Britain Sewing, a community website where experienced sewers can share their tips and advice, and where people can learn and not be afraid of trying something new or asking for help.
The great thing about sewing is that you are constantly learning, there is always a new skill or technique to master. I have learnt so much over these past few years, but I have also made plenty of mistakes. It is through these mistakes, along with a determination to do better that got me to the Sewing Bee Final.
This experience has focused my mind on the way I want my career to go. My passion for creating clothes and costumes has only intensified. I'm now ready to make the dive and turn my passion into a career.
I never thought that I would find a creativity that would have such an impact on my life, and that I would also be encouraging and inspiring people to sew. But at 40, I did just that. I guess life can begin at 40.