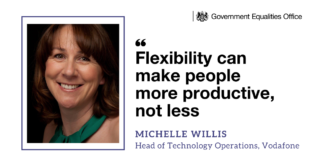 As I reflect on the past year, there can be no doubt that women have been at the forefront of the fight against COVID-19. 
Scientists, healthcare workers and carers have been working tirelessly to keep people safe; and the educational workforce has done a tremendous job in skilfully adapting to ensure our children continue to be educated.
We must now look ahead to a recovery which benefits, and indeed is driven by, women and girls.
In our Women Building Back Better series, we hear stories of women who are building back better, across sectors, after COVID-19.  
Women in tech 
Did you know that 39 per cent of girls entered at least one STEM topic at A Level in 2019/2020, compared to 55 per cent of boys?
My position as both Minister for Women and an education minister gives me a unique perspective on how girls' subject choices influence the careers they move into.
We all need to look carefully at what more we can do to encourage girls to consider STEM careers. There's a role here for the Government, of course, but also for parents, teachers, careers advisors and employers. 
But we are making progress. In 2010, only 32 per cent of girls entered at least one STEM A Level in England, and this year, women made up 53 per cent of first year undergraduate science enrollments.
Role models
Role models can encourage girls to think about different career paths. They demonstrate what is possible and how perceived challenges can be overcome to have successful and fulfilling careers in industries such as Tech.
Role models break down the dated stereotypes and gender norms dissuading girls from choosing the STEM subjects that can lead to a fulfilling career. These stereotypes limit aspirations and prevent young women from reaching their potential. 
The pandemic may have paused our progress, but we must now grasp the opportunities we have to build back better, and fairer, for women and girls around the world.
Digital, technology and communications are perfect examples of industries that can be at the forefront of this change.
Like the amazing women at
Vodafone UK
, who are leading the way...
Michelle Willis, Head of Technology Operations, Vodafone UK
My team works around the clock to keep Vodafone UK's mobile and broadband networks available, so we can keep the nation connected. We're used to working unsociable hours remotely, but not the juggling of home life and work that the pandemic forced upon us. 
During the first month of the pandemic we switched our entire operation to home working, while delivering extra capacity to many critical network services. 
A culture of trust and kindness
To get the best out of everyone in this unprecedented situation, we needed Vodafone's culture of trust, empowerment and kindness more than ever. 
We celebrated the little faces of children appearing on virtual meetings. We stopped calls to wave and say hello, and waited for people to answer the door for parcels. 
We encouraged people to take time away from their screens and get outside for a walk. We introduced a 'Time Well Spent' policy reducing both the frequency and length of meetings. And we stopped structuring our day around 9am to 5pm, encouraging breaks with the children when needed. 
Our people had to be at the top of their game when much of the country switched to home working. But we trusted them to get on with business while we focused on making sure they looked after themselves. 
How Vodafone is supporting its employees
During the pandemic, Vodafone took steps early to ensure the team's safety by enabling home working, while recognising the pressure we'd be under trying to balance home and work life.
We introduced an 'impacted productivity' option for those colleagues – many of them women – balancing working from home with caring responsibilities. This recognised that colleagues might not be able to work during normal working hours. Vodafone provided much-needed reassurance by continuing to pay employees fully even if their productivity was impacted in this way.
Vodafone also runs ReConnect, a careers programme to support people back into the workplace after taking a career break, making the transition back to work as smooth as possible.
The programme helps boost confidence that can often be dented by time away from the workplace.
Embracing flexibility
As a working mum I've always felt some guilt when trying to balance home and work life. So the flexibility enforced by the pandemic actually helped a lot.
As a business, we learnt that flexibility can make people more productive, not less, and we're now adopting new ways of working as a result. 
Some of our colleagues will work entirely from home, others will be based at a specific office or out in the field, and some will mix working from home with working in the office.
Flexibility is important, but employers will need to decide what works best for their business and their employees. A one-size-fits-all approach will no longer be an option in a post-pandemic world.
Find out more about Vodafone's award-winning career programme for anyone returning to work after a career break.