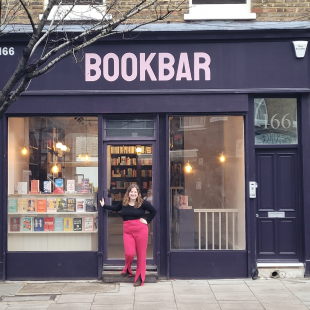 This World Book Day we hear from Chrissy Ryan, owner of BookBar, an independent bookshop and social space in London.
Chrissy reflects on her childhood dreams of opening a bookshop, which became a reality when BookBar opened its doors in February.
BookBar – a community online, and in person
Launching a physical bookshop during a national lockdown in which shops are closed may seem counterintuitive, yet the buzz online about our launch has been phenomenal. I felt it was really important to grow a community online before launching the physical space. Having a bustling online presence is as important as the physical space. Branding has been important in communicating the sense of fun we feel around reading.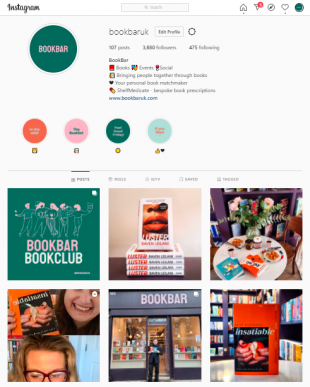 Following a lonely and isolating year, people are looking for community and connection. It's the perfect time for people to discover BookBar and our vision to bring people together through books.
My bookshop intends to replicate the connection that we feel when we read in a physical space, and I started to turn my dream into a reality when the BookBar opened its doors on 1st February this year (for click and collect only, of course!)
Connecting page-by-page 
BookBar brings people together through books. For that reason, the wine bar and coffee shop elements of the business will be as important as the books themselves.
BookBar makes reading fun and social. By creating a warm and welcoming social space, we're saying that books are for everyone. Our events give everyone the chance to come together and make reading a social activity. We want to make the idea of reading just as entertaining as bingeing the latest boxset and gossiping about it with your friends afterwards.
Our new (virtual) book club is based on this idea. Readers sign up on a monthly basis or for a single event, and receive the book we've chosen four weeks in advance. Once they have read the book, they can send in their questions and discussion points. They then attend a live conversation with the author, in which the topics and questions they raised will be discussed.
What did you want to be when you grew up? 
Like every child who grew up with the Spice Girls as their role models, I wanted to be a popstar. In reality, though, I always loved books. I read constantly, from fantasy novels to family dramas, and everything in between. 
When I wasn't reading, I was dreaming about opening my own bookshop. My teenage diary entries were full of plans for how and when I'd open my own bookshop. I imagined what it would look like, what books it might contain, but most importantly, I envisaged the atmosphere it would have and the feeling it would create in the people who visited.
 As an adult, I forged a career in books. I worked for a publishing house and was lucky enough to travel the world, selling books to bookshops. I saw what different bookshops looked like across the planet – from Johannesburg to Sydney to Chicago. I realised that books aren't just about escapism or learning. Books are about connection and community. 
For other aspiring entrepreneurs  
The best advice I'd give is to dream big. You are the biggest force behind the success of your business, so don't be the thing that stands in its way. I'd also say never be afraid to ask for advice and help; talk to people and be honest about your hopes and fears. You can't be brilliant at everything – and you won't have time to be – so know when to use other people's expertise.