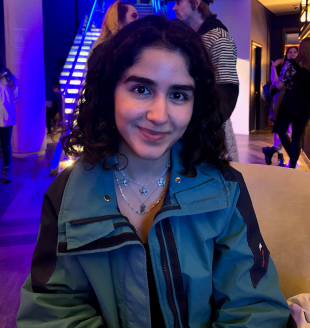 National Mentoring Day takes place every year on 27 October. Individuals and organisations from across the UK come together to raise awareness of the positive effects mentoring can have on young people. This National Mentoring Day we hear from Saz, aged 16. 
"

Mentoring with Nat has helped me feel more confident about my future because I've had someone to speak to about my hopes and fears." 
What would I gain?
I had never heard of The Girls' Network mentoring programme until my school told me I was chosen to be part of their next cohort. I was sceptical at first because I had never had a mentor before and didn't really know how it worked or if I would gain anything from it.
However, I went to the matching session where I was introduced to women from a range of different career paths. It was so inspiring and refreshing; I got to meet many successful people working in the sector they were passionate about. 
Choosing a mentor 
The matching session was almost like speed dating. You got around 5 minutes with each mentor to ask questions about them, got to know them and then in the end you were matched based on how similar you were and if you shared any interests. I ended up being matched with Nat who is so bubbly and considerate, I felt like I could be open with her about anything. 
Our very first session was spent brainstorming places we could go to for our sessions and just getting to know each other even more. We talked about what she could do to help me out, such as provide an insight into the sector I want to go into.  
A sense of direction
Nat set up a lunch meeting for me with a neuroscientist (the area I want to go into) for me to learn more about the industry and her experiences of being a woman in neuroscience. This definitely helped me feel more confident about my future and gave me a sense of direction. 
Mentoring with Nat has helped me feel more confident about my future because I've had someone to speak to about my hopes and fears. Nat has helped me make more of a plan for the future, by getting me to focus on where I want to go and what steps I need to take to get there. Now I can certainly see my career path more clearly. 
Also, having someone who believes in you and encourages you to take risks boosts your confidence as well. It got me out of my comfort zone and made me think about what I was capable of. Being a mentee meant I could expand my skills such as CV writing and communicating. It was good practice and gave me the chance to learn how to get my ideas and thoughts across when speaking to someone face to face.
Go for it!
If you're not too sure about being mentored, I say go for it! There are so many benefits to having a mentor, such as: networking and making contacts, finding your career direction, personal growth and preparation for the professional workplace. But you'll find a friend in your mentor – a supportive friend who'll open your eyes to what you're capable of. 
If you're interested in finding out more and becoming a mentor or mentee, check out The Girls' Network. 
Saz, 16
The Girls Network inspires and empower girls aged 14–19 from the least advantaged communities by connecting them to a mentor and a network of professional role models who are women. Mentoring is a journey, helping mentees get from where they are to where they want to be. 
At the end of the mentoring journey, mentees become ambassadors of The Girls' Network. They hope ambassadors will return as mentors once they've entered the world of work, helping to create a self-sustaining social movement with the goal of achieving unlimited futures for all young women.