On 8 June 2017, the UK held a general election. Members of the public elected 650 new MPs to the House of Commons. Whilst most people were talking about the political outcomes from the election, we've been especially interested in something else: diversity.
This election has created one of the most diverse House of Commons ever. It's made up of more female, more black, Asian and minority ethnic (BAME), and more lesbian, gay, bisexual and transgender (LGBT) MPs than ever before. Here are the facts and figures.
Female representation
In the House of Commons elected in June 2017, there are 208 MPs that are female 1. This is the largest number of female MPs ever elected to Parliament, and an increase of 8.9% compared to 2015.
This increase is another example of the continuing progress in achieving gender equality in the UK, especially as we approach the centenary of women's suffrage.
BAME representation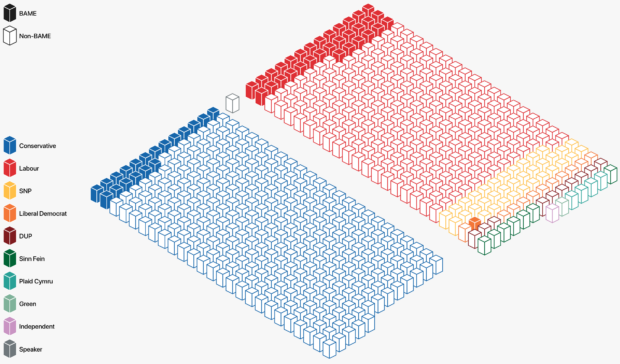 In 1987, the UK elected its first BAME MPs of the post-War period – and there were only three of them2. Now, 30 years on, 52 BAME MPs were elected to the House of Commons3, which is an increase of 11 compared with the 2015 general election.
LGBT representation
50 years since the UK Parliament first voted to partially decriminalise male homosexuality in England and Wales, 45 MPs define themselves as lesbian, gay or bisexual4. We estimate the LGB population of the UK at around 2.5%; LGB MPs now make up 6.9% of the House of Commons.
We'll be highlighting diversity and participation more in the coming months, especially in relation to the 50th anniversary of partial decriminalisation of homosexuality and the 100th year of women's suffrage.
Follow us on Twitter, Facebook and Instagram to make sure you don't miss our future posts.