Today is International Women's Day – a day that recognises and celebrates women's social, economic, cultural and political achievements.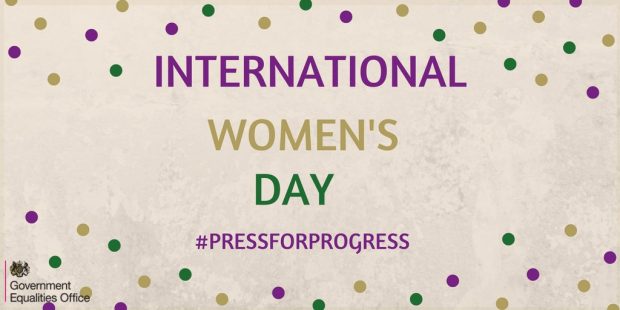 #PressforProgress
This year's theme is 'Press for Progress': particularly fitting for 2018, the year that also marks the centenary of the 1918 Representation of the People Act, the law that first gave some women the right to vote in the UK.
Women have made great strides towards achieving gender parity in politics since this milestone:
This is the most diverse Parliament in British history with the highest number of women MPs ever – 208, which is 32% of MPs.
We've introduced ground-breaking regulations that mean every large employer must publish the differences between men and women in average salaries, bonuses pay and bonus gaps by April –  in the UK the gender pay gap for full time workers is at a record low of 9.1%.
There are now no all-male boards in FTSE 100 companies
But, there's more to be done. The overall gender pay gap in the UK is 18.4%, and women remain more likely to experience domestic abuse than men.
Pressing for Progress on domestic abuse
Today, the Home Office opened its consultation on the Government's approach to dealing with domestic abuse. It seeks to address it at every stage from prevention through to rehabilitation, and reinforces the Government's aim to make domestic abuse everyone's business. The consultation is wide-ranging and is seeking views on both legislative proposals for a landmark draft Domestic Abuse Bill and a package of actions to be taken now. This is just one of the ways the Government is "pressing for progress" for women.
Activities marking #IWD2018
Among a fantastic range of events and initiatives happening across the country to mark International Women's Day, the Government is also marking the day in the following ways:
On 4 March, we launched a £1.5 million fund that will create new opportunities for people looking to return to paid work in the private sector after time spent caring for children or family members. The fund is now open for bids and we expect the first projects to start this summer. We also launched new best practice guidance for employers. This sets out practical steps that employers of all sizes, and across all sectors, can take to increase the quality and quantity of opportunities they offer returners.
Today, there will be a General Debate on "Vote 100 and International Women's Day" in the House of Commons, opened by the Home Secretary, Amber Rudd MP and closed by Victoria Atkins MP, Parliamentary Under Secretary of State for Crime, Safeguarding and Vulnerability and Minister for Women.
In the House of Lords, there will be a debate on "the steps being taken to press for progress on gender equality globally" opened by Baroness Williams of Trafford and closed by Baroness Vere of Norbiton.
It is right that we continue to debate, challenge and work to dismantle the barriers that stop women achieving their full potential both in the UK and around the world.
This International Women's Day, the Government Equalities Office is proud to continue to #PressforProgress.