Founded in 1989, Stonewall is one of the leading LGBT charities in the UK. Our education programme works with over a thousand schools across England, Scotland and Wales to support them to create more inclusive environments for LGBT pupils.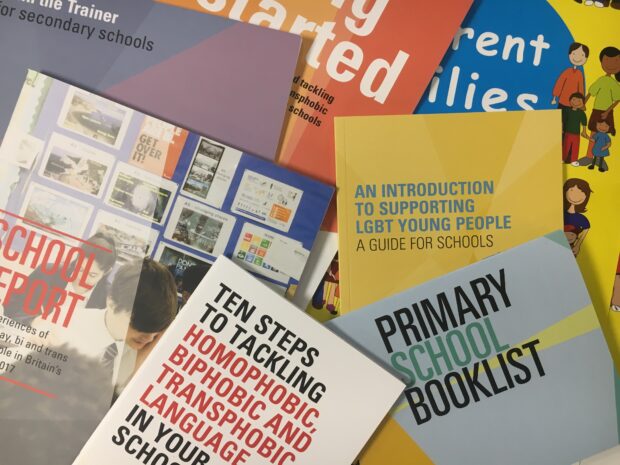 Stonewall is one of the leading charities supporting and campaigning for the rights of lesbian, gay, bi and trans people in Britain and abroad. This summer, we released our School Report 2017, a ground-breaking study in to the experiences of lesbian, gay, bi and trans (LGBT) students in Britain's Schools. This report showed that although anti-LGBT bullying has decreased since 2012, many LGBT young people continue to face significant challenges. According to our research:
nearly half of LGBT pupils, and 64% of trans pupils, said they were bullied for being LGBT at school
LGBT pupils in faith schools were more likely than those in non-faith schools to say that teachers and school staff never challenge homophobic, biphobic and transphobic language when they hear it (31% compared to 22%)
40% of LGBT pupils said they were never taught anything about LGBT issues at school
Stonewall has partnered with the Government Equalities Office to support teachers to tackle homophobic, biphobic and transphobic (HBT) bullying in their schools. Our programme will see us work with hundreds of faith schools in England, at both primary and secondary level, over three years. We support teachers with training, guidance and resources on the approaches they can use to respond to HBT bullying and language in line with Ofsted standards and guidance, and the Equality Act 2010.
At the centre of this approach is our 'Train the Trainer' programme, which equips one teacher with the skills, knowledge and confidence to train fellow teachers to tackle HBT bullying in their school. This cascade model ensures we can reach hundreds of teachers and thousands of students over the three years, and ensures a whole school approach.
Since launching the programme in April 2016, we have started working with more than 200 schools, and produced a range of resources and guidance for schools. For the first time, we have developed a specific programme that will train teachers on how to create trans-inclusive environments in their school. This programme will start to be rolled out in partner schools this Autumn.
If you work in a school with a religious character, and you'd like to take part, please email education@stonewall.org.uk and a member of the Stonewall team will be in touch.