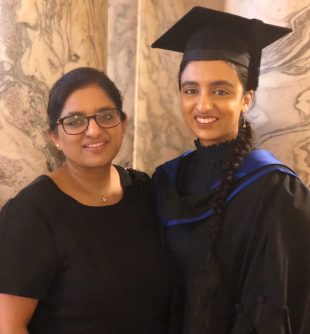 For National Intergenerational Week, last week, we spoke to mother, Arpinder Kaur Bansi, and daughter, Mandeep Bansi about their incredible careers and how the role models in their lives were so important to spur them on in their jobs to do amazing things.
They empowered me to believe I can achieve anything
[Arpinder]
I grew up on stories of how my parents fought for equality. I witnessed them striving to create a better life for themselves and their children. They encouraged me to aspire to greater things by looking at their achievements.
My father studied at night school, eventually earned a Master of Science and became a chartered engineer. My mother started a small business expanding to two retail shops, whilst at the same time raising a family.
They empowered me to believe I can achieve anything. My dad's favourite saying was:
If you really want to be a rocket scientist you can and don't let anyone tell you you can't.
Who knew I would go on to complete postdoctoral research to optimise spacecraft design, coding software to think and make decisions about space shuttle components in a time before A.I. evolved into what it is now.
I was the first Sikh girl to study engineering in the UK
School career advisors couldn't elaborate on possible career options for girls like me who loved maths and physics. Inspired by my father, I decided to pursue a career in engineering.
My parents received a lot of backlash for supporting my decision to go to university. It was unheard of in the community for an Asian girl doing a degree in the 80s, let alone in a male-dominated field.
I was the first Sikh girl to study engineering in the UK and then do a PhD.
My parents were told I was destined for spinsterhood as no one would want a wife more educated than them, which was seen as the worst thing that could happen to an Asian girl at that time.
We are all equal with unlimited potential
After my PhD, I went straight into industry and qualified as a chartered civil engineer.
My engineering career was very rewarding but not without challenges. Challenges including gender pay discrepancies, being told women are not worth the investment as we are likely to go on maternity leave, and even being told people of colour have an inferior intellect. They opened my eyes to the realities of being an Asian woman in a STEM field. I learnt about barriers limiting people's progression, which I didn't know existed.
I have been rewarded by organisations for the positive impact I have had influencing people and inspiring men as well as women to be a better version of themselves. I want people to be confident, to question the status quo as well as bring fresh new thinking to challenging projects.
I have since set up Kaur Values Associates to help women get a seat in the boardroom. The ethos of Kaur Values is we are all equal with unlimited potential. We support people from all walks of life to be confident to achieve their career aspirations.
We need to carry on the legacy of the generations before us. They worked hard and gave their lives for the rights we have today, giving us access to education and jobs that they didn't have. We need to extend these rights for fairness and inclusiveness at all levels.
Now hear from Mandeep Bansi about how she was inspired by her mum…  
[Mandeep]
My mum has always believed everyone is born with unlimited potential.
Just like her parents did for her, my mum has always encouraged me to be the best I can be, no matter what I wanted to do in life. My mum forged her own path, pursuing a career in STEM at a time when this just was not the done thing.
Inspired by my mum's experiences, I decided to pursue my passion for languages and went on to complete a degree in French. I faced scrutiny from society just as my mum and grandparents did.
Why don't you tell her to be a doctor instead?
Despite pressures from our community, my mother's unshakeable confidence in me propelled me to go on to complete a Masters in Science too.
Her passion is to empower others to be active role models and to change organisational cultures to be more fair, inclusive and respectful. Recognising talent for talent without any biases.
I've seen the struggles and challenges my mum faced in her career. I've seen her passion to support the next generation. Her fight for equality goes beyond her daughters. It extends to educating everyone who is facing an uphill battle to achieve their full potential.